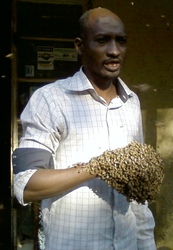 Alhaji Idris M.B.Zaria(idrisbee) Founder
Beekeeping Is the art of rearing honey bees for their by-products either for income generation, Medicinal benefits (apitherapy) and for pollination of agricultural crops.

Beekeeping: is comprised of three (3) areas viz:


(1) Apiculture - management of the honey bees for their by-products.

(2) Apitherapy - Application of one or more of the by-products for medicinal uses for humans and animals.

(3) Crop pollination - honey bees are the most important agents in most crop pollination. Their activities help increase crop field by up to 40%.


Bee by-products include propolis, Royaljelly, beeswax, bee pollen, bee larvea, honey and bee venom (bee sting) see www.apitherapy.com



The Society
The society was founded in 1996 by Alhaji Idris M.B. Zaria one of the 1980s trained extension workers
The society is non-profit local NGO operating in Kaduna State, Nigeria.
Objectives
The primary objectives of the society is beekeeping extension. Specific objectives are to:-
(1) Improve on the income level of the rural farmers (including Women) through Beekeeping.

(2) Establish farmers extension groups as sustainable approch.


(3) To identify and liaise with National and International Organisations (including individual women or women groups) involved with or related to beekeeping developments.

(4) To seek Assistance (Grants/Funds) for beekeeping development projects.



Membership: Currently the society has 8 active members.

Major Achievements:-


1. From 2001 - 2003 the Society has recived over $ 60,000 from :
- The Small West African Grants Programme under the United States International Development Agency (USAID)
- The Canadian International Development Agency (CIDA).
- The Development Cooperation of Ireland.
- The Telefood Project of The Food And Agriculture (FAO)
2. In-collaboration with over 21 National and International Organisations

3. Recived five international Master Beekeepers as volunteers through Winrock International www.winrock.org and one other from Bees Abroad UK www.beesabroad.org.uk

4 .Received beekeeping journals from Bees for Development UK www.planbee.org.uk

5. Recived twelve International Agricultural Consultants from the United States Department For Agriculture and the Tuskegee University through Winrock International.

6. Had three visits from the African Development Foundation (ADF)